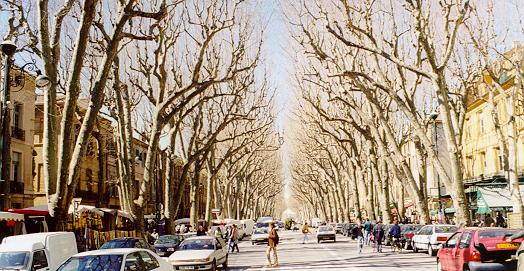 The Cours Mirabeau - The center of our world



L'Hôtel des Quatre Daupins (and one cutie in the window)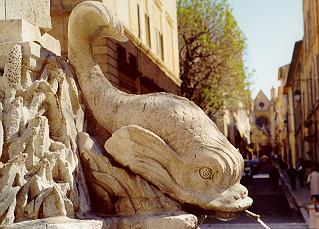 Le Fontaine des Quatre Dauphins - down the street from our pad



Inside a 13th century church in Aix - you can kinda see the church in the background of the fountain picture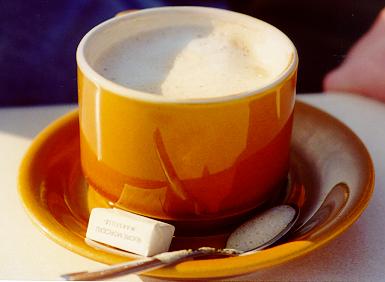 Look at that froth on that café o'lay, would ya!



Maybe it's the wine



Awwwwww - Us in Cassis on the Riviera



Taking a break from the rigors of life in the south of France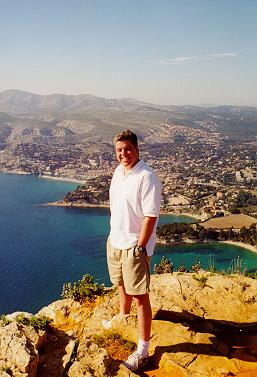 The harshness is taking its toll - I'm gonna jump! This is the cliff overlooking Cassis



Produce market in Aix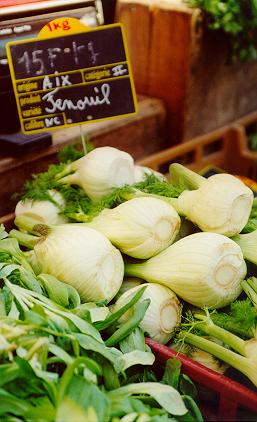 Andrea getting artsy-farsty again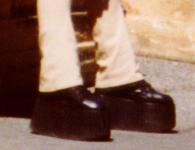 I bet I know where you got your shoes. All the girls were wearing these Frankenstein shoes. They even had aerobic looking shoes with these 5 inch platforms



My sweet pea on the only non-perfect weather day (and only the morning was cloudy)


!BONUS!BONUS!BONUS!BONUS!
What we ate
Wednesday:
Dinner - Cafe du Cours
T - Sauted rabbit with rosemary in a very light tomato sauce over noodles - ***
A - Seafood pasta - *
Bottle of Côtes de Provence rose lightly chilled

Thursday:
Lunch - Ham, fresh mozzerella, tomato & herbs on bagette from a booth on the street - **
Dinner - Tasted our stuff for picnique for the next day (Brie, Roqueford, mouse de cannard paté, saussison, bagette, bottle of Côtes d'Aix red - ***) - ate so much we only went out for desert (Tarte Tatin - traditional Provencal apple tarte) and cognacs and kir royals

Friday:
Breakfast - Croissant & pain au chocolat from the boulangerie - ***
Lunch - Aforementioned picnique in Aubagne
Dinner - Tapas Cafe
Calimari - **
Country bread with garlic, tomato and herb spread - ***
Artichoke hearts salad - **
Their fries with mustard sauce - ***
Brochette of lamb with rosemary - ****
Pitcher of magueritas!

Saturday:
Breakfast - croissant and café au lait on the Cours Mirabeau - ***
Lunch - Same picnique on the beach in Cassis
Dinner - Café de Deux Garçons on the Cours - over 200 years old
T - Frois gras de cannard frais with cracked pink pepper corns - ****,
Grilled duck breast with flap mushrooms - ****
A - Steamed marinated mussles - ***,
Sea bass poached in white wine, lime, and vanilla - ****
Flourless chocolate cake - ****
Bottle of Côtes de Rhone Reservé white
Man, this place was out of this world!

Sunday:
Breakfast - Croissant & pain au chocolat
Lunch - Le Grillon on the Cours
Croque monsieur, salad nisoise, their fries - **
Dinner - La Pizza, oldest pizza joint in Aix - pizzas in wood fired brick oven since 1952
T - Chorizio, pepper, and chèvre pizza - ***
A - Roqueford, chèvre, fresh mozzerella, and gruyere cheese pizza - ****
Red wine from a jug
Desert - crèpes & café at Cafe du Cours

Monday:
Lunch - Another street sammich
Dinner - Trattoria de Somebody
Salad with jambon de parma (prochuitto (spell check od'ed on that one)), fresh slices of parmasan cheese, tomatoes, and a sliced pear - ***
T - Lasagne - ***
A - Gnocchi in butter & cream - ***
Bottle of Chianti and they put a bottle of Grappa on the table after dinner!

Tuesday: Dinner - Le Tastevin on the Ile St. Louis in Paris
Escargo - ****
T - Grilled lamb steak - **
A - Raosted chicken & mushrooms - **
Pralene(A) & Caramel(T) ice cream from Berthillon - ***

Plus at least once a day, we sat in a café people watching having coffee, wine, beer and olives. Unbelievable